Introducing
My name is Arnoud Busscher. I am specialized and certified in canine behavior. My profession involves the study, training and solving of problems affecting dogs. In 1999 I established my own practice as an canine behavioral therapist. I am a member of the Canine Trade Group.
I find it important to have a good relationship with veterinarians. They regularly refer people with their dogs to me for a puppy training or consultation. During my work I have noticed that the usual obedience training is not always sufficient for people who have a problem dog. They often remain with the problem unless specific training to overcome this is provided. In the course of my daily work, I encounter a great deal of behavioral problems affecting all types and races of dogs.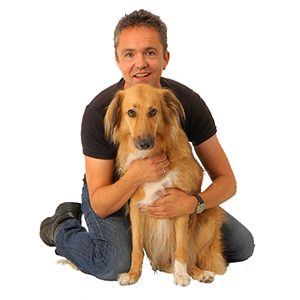 A few examples of behavioral problems:
- Aggression to people or other dogs
- Disobedience
- Separation anxiety
- Jumping up at people
- Fear
- Barking
- etc.

Consultation
In an extensive interview with you at home all the behaviour problems will be discussed. On the basis of the information and my own observation of the behaviour of the dog, I am able to diagnose the problem. Then I discuss with you a therapy to improve the behaviour of your dog.
You'll learn a lot about your own pet!

A consultation costs € 175.00 incl. VAT
Puppy personal training course
A good puppy training is of vital importance for both puppies and their masters. However, standing in a field with a group every week and having the feeling that you will never get to ask all the questions you have is often reason enough to give up obedience training. Besides, at a certain point you are probably overwhelmed by the variety of tips you get, making it all the more difficult to see the forest through the trees.
I can offer you an alternative to train your young dog the right way in a short time. In only 5 private lessons, I can show you the ropes in your dog's world. The topics covered include: doglanguage, when do I recall my dog? How do I prevent behavior issues? Every basic rule for getting along with your dog. Additionally, I will clear up many of the common misconceptions held about puppies.
The first lesson will be given in your own home to discuss all of the aspects involved in training your dog. I will provide you with a handbook with all of the information which will be discussed during the lessons.
The other 4 lessons are practical training sessions which last an hour and are held on location. This location will be Amsterdamse Bos (Amsterdam) or Bos der Onverzettenlijken ( Almere). I will focus on the most important basic commands, along with other aspects, using the newest, animal-friendly methods. During the lessons we will give your dog the opportunity to socialize with other dogs as well.
You will have every opportunity to ask me any questions or discuss any problems with me during the lessons. Even outside of the lessons, you are free to come to me with all of your questions about your puppy, and may do this either by phone or e-mail. After the last lesson, you will receive a certificate of participation.
In order to participate, the puppies must be between 2 and 6 months old, and must also have had all of their vaccinations.
The price for the course is € 245,- incl. VAT. This price includes 5 lessons and a certificate. You may contact me by phone or e-mail to make an appointment for the first lesson.
If you have any further questions, or do you want to make an appointment? Please do not hesitate to contact me by using the contact form